In this AA Car Insurance Review, you'll discover that as a leading and trusted brand for AA Breakdown Cover, it shouldn't come as a surprise that The AA also has a spectacular and competitive car insurance policy. It has received a 5-star Defaqto rating in 2015 – its 5th year in a row. Current AA members will receive bonus benefits upon signing up for the insurance such as personal accident coverage of up to £7500, £2500 more than non-members. When you take out a new AA Car Insurance Quote today, you'll also get 50% off their Breakdown Cover. The AA is an insurance company that takes care of both its longstanding members as well as new members. Their optional extra policies are also dedicated to help you. Their 24/7 legal helpline and two hour driving course is also there to assist you after a car accident.
If this sounds like the insurance company for you click here to a quote now, or read on for a more detailed review on The AA.
Reasons to Choose The AA for your Car Insurance
Awarded a 5 Star Rating from Defaqto for the fifth year running in 2015.
Prices start from as low as £195
Car Car insurance buyers who are already AA members get higher levels of cover than non-members.
New customers get a 50% off AA Breakdown Cover, money off AA breakdown cover upgrades, and additional member benefits.
Click Here To Get A Quote From AA Car Insurance
The Go-To Company for Breakdown Cover
If you already use and trust the AA for their outstanding car breakdown service , insuring your vehicle with them is the next natural step. If you aren't already an AA member, you will be pleased to hear that as a new customer, you will benefit from appealing additions such as 50% off AA Breakdown Cover. The AA also offers Telematic car insurance, for new drivers, and policies tailored specifically for women.
Why choose AA Car Insurance?
With a five star rating from Defaqto and an outstanding reputation , you can be certain that AA Car Insurance will do its best to provide you with the most competitive insurance policies available on the market. A 3 month survey showed that 30% of   AA Car Insurance customers paid less than £195 for their insurance –that's just one of the many reasons to get your cover from this outstanding British institution.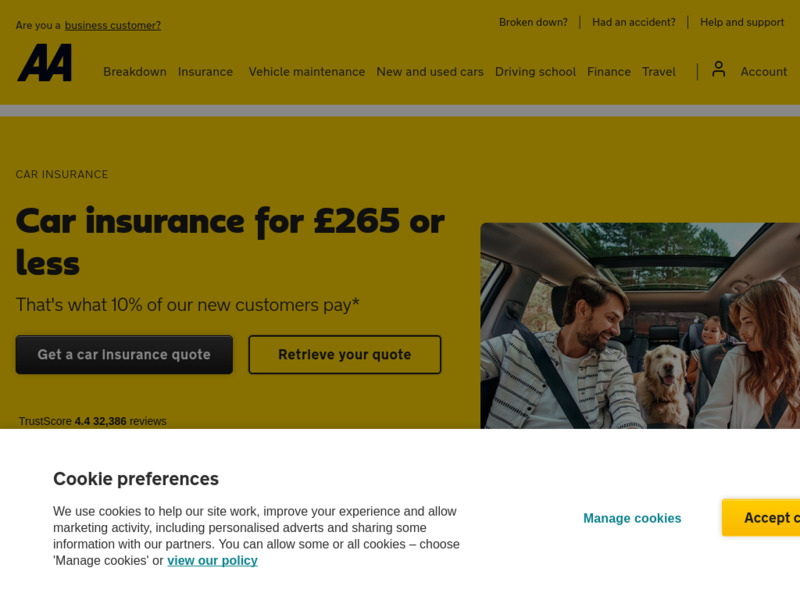 Benefits of getting your vehicle insured with The AA
Along with competitive prices, there are a number of additional benefits to choosing the AA as your car insurance provider. These include:
A 5 Star Defaqto rating for both member and non-member insurance policies, which they earned for the fifth consecutive year in a row, in 2015.
50% off AA Breakdown Cover is offered to new customers, which includes 24/7 roadside assistance, and the knowledge that 8 out of 10 cars are fixed by the roadside.
New customers get access to AA member benefits, which include more than 50% off your next MOT, hotel offers, and up to 50% off at over 6500 restaurants.
You can get up to £250 of cover for loss or damage to personal belongings for non-members, which will increase to £500, if you become a member.
Their 24/7 Claims line means you can make a claim anytime .
The Uninsured Driver Promise ensures that you won't pay an excess or lose your no-claims bonus if your car is hit by an uninsured driver, where the accident is not your fault.
Each named driver on the policy can earn their own no-claims bonus, which they can use individually at a later date.
The comprehensive cover policy offers a courtesy car for up to 21 days, allowing you enough time to get your own car fixed or replaced. You can also add optional benefits to your comprehensive policy, such as legal cover and zero excess.
AA Car Insurance offers women's car insurance, which includes up to £250 personal belongings cover for your handbag and its contents, replacement child car seats, and up to £1000 to cover the cost of replacing your car keys.
A free anti-theft tracking device is offered with each new drivers' policy.
Up to 90 days travel a year in the EU is covered through all of the insurance policies.
Your car is covered under the comprehensive policy when it's in the hands of people who aren't named on your policy, such as garage staff, valet parking staff, or when it is being parked by employees of hotels, restaurants, or car parking services.
In addition to these benefits, AA members receive even more extras. These include:
Up to £500 personal belongings cover, which is twice as much as much as non-members receive.
Up to £1000 Cover for communication equipment not fitted by the manufacturer, which is £250 more than is available for non-members.
Up to £7500 personal accident cover (£2500 more than for non-members).
Up to £500 to cover any medical expenses, which is £100 more than what non-members would receive.
Up to £1000 Cover for audio equipment not fitted by the manufacturer (£250 more than for non-members).
AA Car Insurance also offers optional extras to add to your policy, which include their Motor Legal Assistance, to help you recover compensation from the party at fault, and a 24/7 legal helpline and a two hour driving class to help you regain your confidence after an accident. Excess Protection will enable you to claim back your policy excess when you are at fault or the other party cannot be identified, and Car Hire if your car is stolen or written off and is not covered by the comprehensive policies' Courtesy Car.
Click Here To Get A Quote From AA Car Insurance
AA Car Insurance Quote
Whether you are an existing AA member who has not yet bought your car insurance or a brand new customer, AA Car Insurance offers competitive pricing with excellent ratings and excellent customer service. If you're considering renewing your policy, it's worth checking to see if you can save money this year – to learn more about  AA Car Insurance, just click here to get a personalised quote in seconds.
Click Here To Get A Quote From AA Car Insurance