Known for its multi-car insurance policy, Admiral's other policies are also incredibly competitive and cost-effective. In this Admiral Car Insurance Review, you will find more information on the details behind their No Claims Bonus, flexible payment options, Black Box Insurance policies and more. They also have incredible upgrades you can make to your policy. These upgrades include Keycare Cover and Hire Car Cover. If you lose your keys, whether they are for your house or your car, Admiral will cover you. They will also lend you a car if your car is ever stolen or written off.  If anything ever happens, they are even available 24/7 on their emergency helpline.
Their customers love how they are taken care of. 90% of users who filed a claim renewed their insurance with Admiral. Voted UK's Best Car Insurance Provider in 2014 by The Personal Finance Awards, it should come as no surprise as to why 3 million drivers are insured by Admiral. Get your Admiral Car Insurance Quote now, click here.
Why Admiral Car Insurance is Competitive Choice
Prices start from just £227 for multicar insurance.
Great value single car insurance – 10% of customers paid £175 or less between October 1st 2014 and March 31st 2015.
Separate Separate No Claims Bonus for each named driver on a Multi-Car policy – if someone else makes a claim, your No Claims Bonus won't be affected.
Bonus Match for second vehicles, which in most cases, matches your No Claims Bonus on your second vehicle, to your first.
Click Here To Get A Quote From Admiral Car Insurance
A Name Famous for its Multicar Cover:
With over 20 years of experience, Admiral Car Insurance is a renowned and trusted brand. The company proudly insures over 3 million drivers in the UK and for many people, its Multi-Car policy offers one of the most competitive deals around. Admiral can also offer you competitive deals for single car cover, along with excellent benefits with their standard policies.
Why Choose Admiral Car Insurance?
Whether you are a new driver or one with more experience, Admiral may be the best option for you thanks to its competitive pricing.   Admiral Car Insurance offers single car policies and Multi-Car policies, which could save you over £200.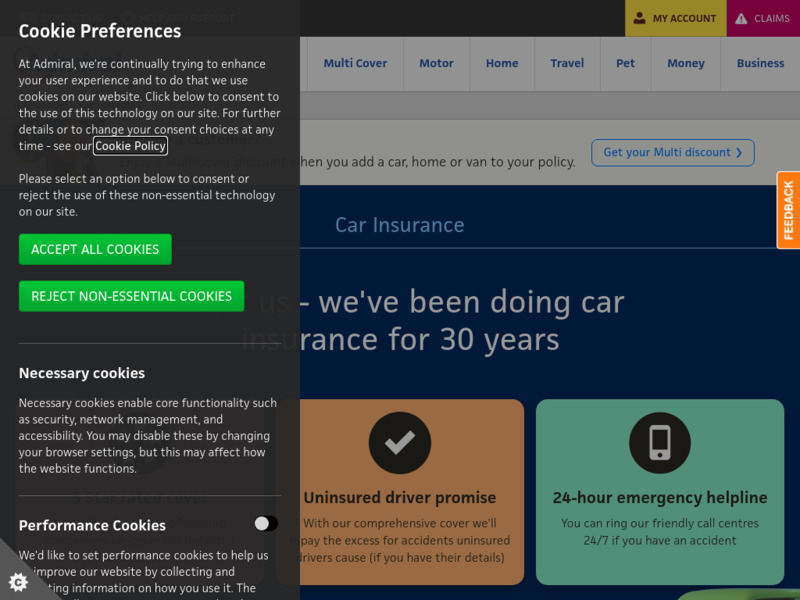 Benefits of Admiral Car Insurance
In addition to the money they can save you, Admiral has a range of benefits, and optional additions under their standard comprehensive policies to enable you build policies that are tailored to your requirements.
The comprehensive policies come with a free courtesy car while your vehicle is being repaired at an Admiral approved garage.
Their easy to use website offers a simple two question quiz to help you choose your car insurance.
Policyholders are eligible for the repair and replacement of windscreens as standard (excess applies).
Up to 90 days cover to drive in Europe per year, meaning you don't have to worry about arranging additional cover.
Your stereo is covered in the case of fire or third party theft for up to £1250 or 15% of the value of your car, whichever is the lower figure.
Admiral offer £5000 of personal injury cover for you and your spouse if you ever need extra help following a serious accident.
Any named driver on the policies can earn themselves an Admiral No Claims Bonus, and they can each claim their bonus separately to your No Claims Bonus.
An emergency helpline is available 24 hours a day, 7 days a week.
If your personal belongings are damaged or stolen while in your car, Admiral will pay up to £100 in Personal Belongings Cover to help you replace them.
Flexible payments mean you can choose the payment option that's best for you – you can either pay monthly or annually.
Admiral's Black Box Insurance policies give you the chance to prove that you are a safe driver, and this can result in policy discounts and impressive savings, for you.
You can also personalise your policy easily with these upgrades:
Breakdown Cover comes in three levels – Local Cover, National Plus Cover, and European Plus Cover, giving you peace of mind whether you're out on the road. If you have broken down at home and choose the National Plus or European Plus Breakdown Cover, Home Assist will send someone out to you who can either get your car started again or take you to a local garage who will get you back on the road .
Motor Legal Protection worth £100,000 will cover uninsured losses in a motor accident that is not your fault.
In addition to the £5000 of personal injury cover provided by the comprehensive car insurance for you and your spouse, you can add extra Personal Injury Cover for up to £50,000 for policyholders and named drivers, whether they're driving the insured car or are just a passenger.
Hire Car Cover provides you with a car if your car is stolen or written off.
Admiral's Bonus Accelerator policy means that you can get a full year's No Claims Bonus after just ten months – useful if you are a new driver.
Purchasing Modifications Cover means Admiral will contribute towards the costs of replacing any modifications or non-standard parts fitted to your car, with compensation of up to £500 or 10% of your vehicle's market value, whichever is less.
Keycare Cover will give you £1500 worth of cover for replacement keys and locks if your keys are lost or stolen, whether they're car keys, house keys, or personal property keys.
Click Here To Get A Quote From Admiral Car Insurance
Admiral Car Insurance Quote
Admiral Car Insurance will no doubt be an attractive option for families who want to insure more than one person or more than one car at a time. With an excellent customer rating and great benefits on all of their standard policies, even those looking to insure a single car should get a quote from Admiral online now.
Click Here To Get A Quote From Admiral Car Insurance