If you are over the age of 50 and looking for a new car insurance policy, look no further than Age UK. With the slogan "love later life", Age UK is dedicated to making car insurance as cost-effective and valuable as possible for the more mature drivers. While most insurance companies are unwilling to take on older customers, Age UK will welcome them with open arms. They will cover you if you are driving your son's car, cover your children and grandchildren if they are under your policy, and cover you on your 6-month post-retirement trip to Europe. They care about the things you care about in your later life, and that comes across in their policies and values. In this Age UK Car Insurance Review, you will learn more about their dedication to you and your wellness. For a FREE quote, click here for an Age UK Car Insurance Quote.
Excellent Car Insurance for Over-50s with Age UK
Car Insurance prices start from just £164.
An award winning insurer, Age UK has been awarded a 5* rating on Defaqto in 2015, and was a Gold Standards Award winner in 2014
No extra charges if you choose to pay monthly rather than annually.
Click Here To Get A Quote From Age UK Car Insurance
Car Insurance Catered To Those Later In Life
While some car insurance companies impose an upper age limit on policyholders, Age UK not only has no upper age limit, meaning you can continue to get motor insurance cover, well into your nineties – it prides itself on being a company designed specifically to suit the needs of policyholders over the age of fifty. Because their policies are intended for older drivers, they do not unfairly increase the price of their policies solely based on age, which means that you can trust that a policy from Age UK will be outstanding value for money.
Why Choose AgeUK Car Insurance?
If you are looking for car insurance tailored to the more mature and experienced driver, , Age UK is an excellent place to start. There are no hidden administration, , adjustment, cancellation, or duplicate document fees, no interest will be added for choosing to pay monthly, and no 'Direct Debit Fee' should you choose to pay monthly. With customer service designed to assist you as much as possible for no extra charge, you can rely on Age UK providing you with a policy that really gives you both peace of mind and value for money.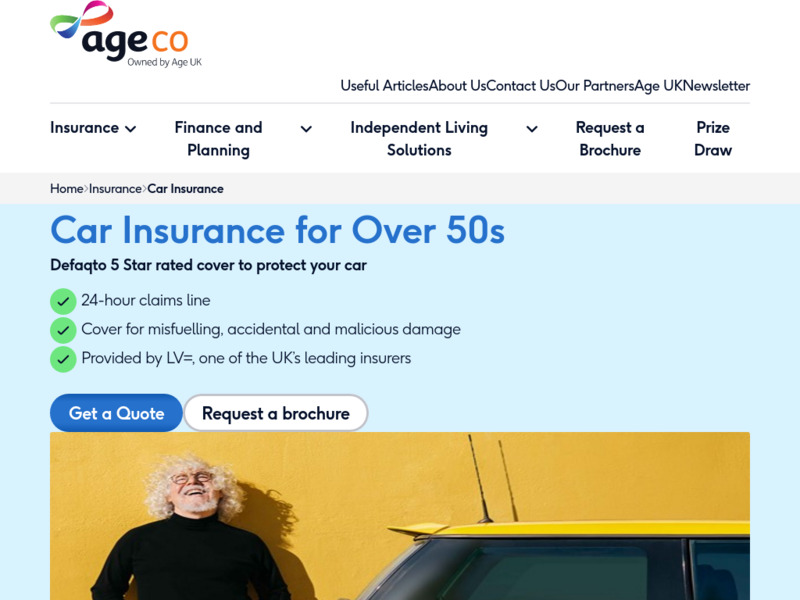 Benefits of Age UK Car Insurance:
10% of all new customers who took out a comprehensive policy between November 2014 and April 2015 paid £164 or less, making Age UK excellent value. Other benefits of Age UK Car Insurance include:
Age UK will contact a friend or a relative to make them aware of your situation if you have been involved in an accident and are unable to contact them yourself.
As part of the comprehensive policy, the 'Get You Home' Service will provide arrangements to get you either to your home or to your planned destination, if your car is no longer roadworthy after an accident.
You will be covered to drive in Europe for up to 180 days per year. This is double what many insurance policies offer, and will give you the peace of mind to travel frequently for extended periods of time around Europe.
Age UK will provide you with a guaranteed courtesy car as part of your comprehensive cover. Following an accident or damage after a theft, you will be given a courtesy car to keep you on the road while your car is being repaired by an Age UK approved garage. All repairs are guaranteed for up to three years, provided that they are carried out by the Age UK approved repairers.
Your audio, navigation, entertainment and telephone equipment are also covered by the comprehensive policy, providing the equipment is permanently fitted to the car.
Personal accident and road rage is covered for up to £5000, and this covers death, loss of sight and loss of limbs for you, your spouse or your civil partner.
Under the comprehensive policy, personal belongings are covered up to £300.
Broken windows or windscreens are covered with a £50 replacement excess. There is a £100 limit if the company used is not Age UK approved.
Replacement locks are covered up to £500 with a £100 excess.
Trailer cover is provided as standard for up to £250, as long as the trailer is single-axle and attached to the vehicle.
The policyholder is covered when driving a car that does not belong to them.
Although the insurance is designed with the over-50s in mind, there are absolutely no age restrictions when applying. Younger named drivers can be included on policies too (subject to acceptance by the insurer).
Age UK Car Insurance also offers additional benefits at an extra cost, which can be added, depending on your own needs. These optional extras include:
Motor legal protection, which covers the legal costs to pursue personal injury compensation when you are not at fault, or the costs to defend a motoring prosecution brought against you. To pursue claims for uninsured losses, you can obtain legal advice and assistance with costs up to £100,000.
Motor Breakdown cover is provided by Aria Insurance Services Limited, and it covers you for roadside assistance, vehicle recovery, and cover for when your car won't start while you're at home.
Click Here To Get A Quote From Age UK Car Insurance
Age UK Car Insurance Quote
For anyone over-50, looking for comprehensive car insurance with benefits that really suit them, Age UK Car Insurance is hard to beat. To see whether you could save money by buying your car insurance with Age UK, go onto their easy to use website and get an online quote directly from them today. get a quote from Age-UK online now.
Click Here To Get A Quote From Age UK Car Insurance