Looking for exceptional customer service for a competitive price in your car insurance provider? Check out our Aviva Car Insurance Review.
Rest assured that with Aviva you will always be taken care of with a Personal Claim Manager assigned to you as part of their standard policy. You can also save up to 20% off on your quote if you sign up online. Aviva also cares about your family. Your partner can earn up to a 60% discount if they choose to insure their car under Aviva and they will also offer a car seat replacement in the case of an accident or theft. There is no wonder that this car insurance has received a 5-Star Defaqto rating in multiple categories including Home & Drivers Club, Multi-Car Insurance, and Motor Insurance. Aviva's slogan of "redefining standards" really does come through in their policies. Click here for an Aviva Car Insurance Quote
Excellent Cover as Standard from Aviva Car Insurance
You can receive up to 20% discount on your car insurance when you purchase it online.
Prices start as low as £187.
Get a third off when insuring a second car/van with their MultiCar policy.
Their claims team is based in the UK, and they are open 24 hours a day, 7 days a week.
Click Here To Get A Quote From Aviva Car Insurance
A Trusted Name with Five-star Customer Service
As the sixth biggest insurance company in the world, Aviva are able to offer you extremely competitive prices for your car insurance. The 20% discount when you buy online is certainly appealing to those who want a trusted name to insure their vehicles, but it's in the area of customer service that Aviva really stands out from the stiff competition.
Why Choose Aviva Car Insurance?
With a five star Defaqto rating on both their single car and Multi-Car insurance policies, Aviva offers great deals on their car insurance and excellent customer service. The 24/7 claim line is included even in their standard cover, highlighting Aviva's dedication to their customers. You can even benefit from a dedicated UK Personal Claim Manager, who will guide you through every step of the claims process. If you're considering insuring a second car, 30% of Aviva customers will get a rebate of up to a 1/3 off the price if they choose to insure their second car with Aviva under their Multi-Car policy.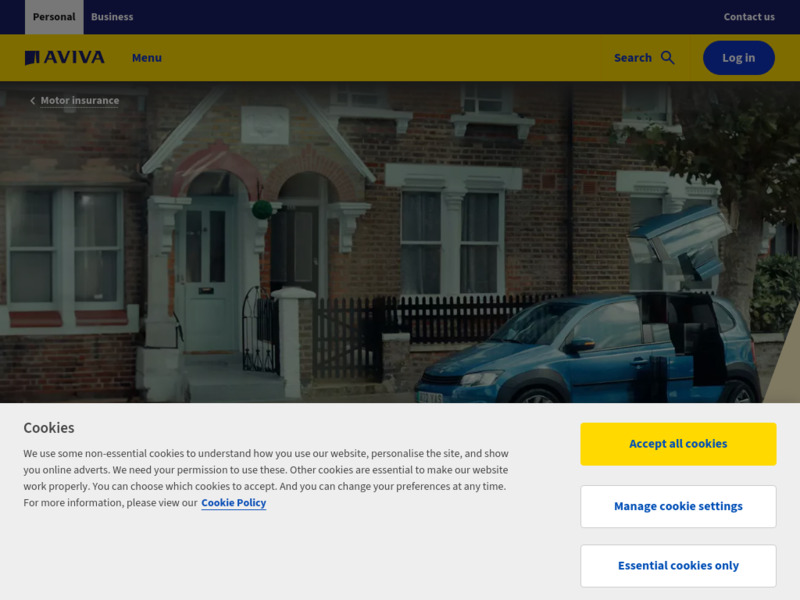 Benefits of Aviva Car Insurance
Along with the potential discounts you could receive by buying Multi-Car insurance, Aviva also have a number of additional benefits that you should consider when choosing your car insurance provider.
You can save up to 20% on your car insurance quotes if you buy online.
You have access to a UK based claims team, which is available 24/7, 365 days a year. There are no forms to fill in, which makes the claims process quick and easy. You also have a Personal Claim Manager, who will keep you fully informed during any claims you may undertake.
Aviva offers a fast vehicle recovery time after a road accident, with an average wait of 45 minutes.
You can receive up to 1/3 off with Aviva Multi-Car when you add a second car or van to your policy.
Aviva received 5* Defaqto ratings for their Home & Drivers Club, their Multi-Car Insurance, their Motor Insurance, their Private Car Insurance, and for their Private Car Powerpoint.
Named drivers on your policy who remain claim free can earn a named driver discount if they take out their own Aviva motor insurance policy in the future.
Your spouse or partner can earn up to 60% discount if they choose to insure their own car with Aviva.
If you wanted to add a vehicle to the Multi-Car policy mid-term, the vehicle will be given one year's no claims discount, if there are six or more months remaining on the Multi-Car policy..
Aviva offer child car seat replacement up to the value of £100 after an accident or theft, even if the seat looks undamaged.
The uninsured driver promise means that if you are hit by an uninsured driver and it wasn't your fault, you won't lose your No claims discount.
Your audio equipment is protected under the comprehensive policy as part of your vehicle's accessories. There is a £500 limit on non-manufacturer fitted audio devices, but devices fitted by the manufacturer have unlimited cover.
In addition, you can add a range of optional extras to your cover, allowing you to build a policy that suits your needs.
The breakdown cover options are all backed by the RAC, and come in four tiers: Rescue Only, Rescue & Recovery, Rescue, Recovery & At Home, and Rescue, Recovery, At Home & Onward Travel.
If you are a policyholder aged 21 or over, with 3 or more years of no claims discount (NCD) and you have made no more than one claim in the last year, the Protected NCD will protect your no claims discount from one claim every year.
By purchasing Motor Legal as an additional option, you will receive £100,000 to pursue a claim if you are involved in a motor accident that is not your fault, and £10,000 to cover legal defence costs, if you are being prosecuted for a motoring offence.
Click Here To Get A Quote From Aviva Car Insurance
Aviva Car Insurance Quote
Whether your car insurance is coming up for renewal, or you just fancy browsing for alternatives in search of a better deal, Aviva Car Insurance is definitely worth considering. The 24/7 call lines and excellent customer service tells you that Aviva is behind you all the way. This is also reflected in their 5* Defaqto rating.  To get a personal quote from Aviva to see how much you could save on your car insurance, simply click the link below..
Click Here To Get A Quote From Aviva Car Insurance