If you are a careful and experienced driver, then AXA might be the car insurance company for you. In this AXA Car Insurance Review, you will see that safe drivers are the big winners here.
If you drive carefully, you can earn up to 20 years of No Claims Discounts! And they care about the little things in your life — you will even be covered if you put the wrong fuel in your car. What if your car is damaged through no fault of your own by an uninsured driver? Under AXA's Uninsured Driver Promise, your No Claims Discount and Excess will be refunded to you. Additional extras you can add to your policy includes a Protected No Claims Discount, which will give you accident allowances so you can protect your discount. AXA protects the safest and most experienced drivers in their standard policies. Click here to receive an AXA Car Insurance Quote today.
Experienced Drivers Choose AXA Car Insurance
A courtesy car is provided as standard while your car is being repaired by an approved repairer.
Witha 24 hour UK based claim line, you can receive help when you need it most.
Print your documents immediately, so you always have important information to hand.
No admin fees for online charges.
Click Here To Get A Quote From AXA Car Insurance
The Go-to Company for Experienced Drivers
With over 300 years of history, AXA have the unusual prestige of being in existence for longer than cars – this means that they can provide you with trustworthy and outstanding customer service, showcased by their five star Defaqto rating. AXA is definitely a safe bet, particularly if you are a careful, experienced, or older driver.
Why choose AXA Car Insurance?
AXA offers a range of comprehensive policies, and you can add optional extras such as breakdown cover, legal cover, and the option to protect your no claims discount. The website is clear, simple, and easy to use, and when you choose a policy, you can print the documents straight away instead of waiting for them to arrive in the post. You can also make changes to your policy online for no extra fee.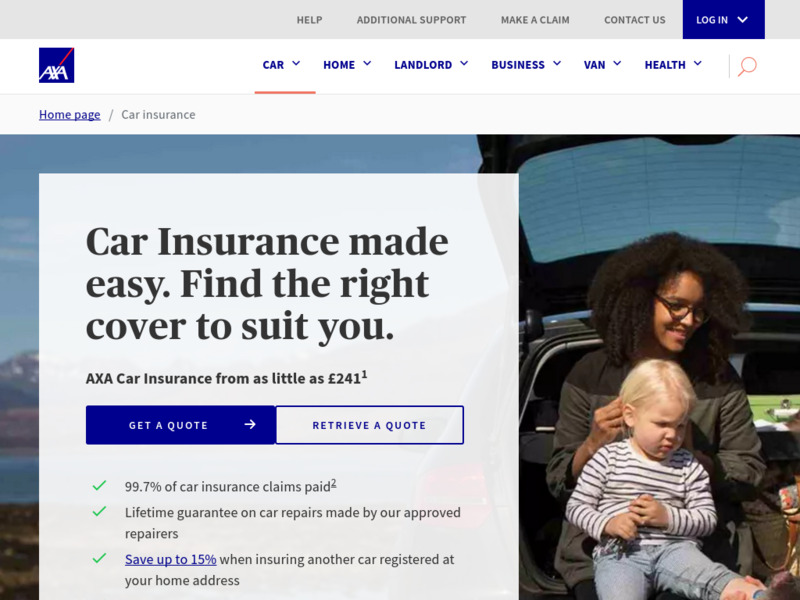 Benefits of AXA Insurance
Along with their easy to use website, which has been designed to make buying your insurance as simple and stress free as possible, there are a number of benefits to buying car insurance through AXA.
You can earn up to 20 years No Claims Discount with AXA.
With all of your policy information and documents stored online, you can access important information quickly and easily. Alternatively, if you prefer to have a physical copy to put on file, printing your documents is just as simple.
The UK based claims team is open 24 hours a day, meaning that if you ever needed to make a claim you can do it at a time that suits you.
The AXA website has helpful explanations about their cover and car insurance in general, and a number of useful FAQs – whether you have a question about your policy or about using the website, you can probably find your answer in the FAQ section. If, for whatever reason, you cannot find an answer to your question, you can email their Help Team and they will aim to send you a response within 24 hours.
With the comprehensive policy, you are covered if you ever put the wrong fuel in your car.
For as long as you own your car, AXA will give you a lifetime guarantee on repairs from their approved network of repairers.
The uninsured driver promise provided by the comprehensive cover means that you will get your no claims discount and excess refunded to you, if your car is damaged through no fault of your own, by an uninsured driver.
A courtesy car is provided as standard.
In addition to the many standard benefits, AXA also offers optional extras for you to choose from, so you can find the right cover for your personal circumstances.
With the courtesy car upgrade, you can improve on the courtesy car AXA provides as standard, to a hire car better suited to your needs.
AXA offers you four types of breakdown cover – Roadside, Rescue, Rescue & Home Assist, and European. Simply pick the level of cover best suited to you, and you won't have to worry about being stranded on the roadside.
If you are not at fault, Legal Cover can offer you up to £100,000 in legal fees for their approved solicitors. Legal cover can also help you cover additional expenses if you were not at fault for your accident, including medical expenses, lost earnings , and additional transport costs.
The Personal Injury & Rehabilitation cover provides you with up to £100,000 if you are inured in your car, providing you with support even if the accident was your fault. AXA also provide medical care and rehabilitation to help get you back on the road.
With the chance to earn up to 20 years No Claims Discount, and protect this against future claims with the Protected No Claims Discount, with allowances to make one claim in a year or two claims in a three year period, without it affecting your No Claims Discount.
Click Here To Get A Quote From AXA Car Insurance
AXA Car Insurance Quote
AXA is a well known and trusted brand, and they particularly favour careful drivers. If you are proud of your safe driving and want the option to protect your hard earned no claims bonus, this could be the company for you – simply click below to get a quote from AXA online today.
Click Here To Get A Quote From AXA Car Insurance