Are you a new driver and scared of the high rates insurance companies usually offer you? Bell Car Insurance has more faith in you than that. They use their innovative Plug & Drive black-box technology to monitor your driving for just the first 3 months. If you prove yourself, then they will discount your initial quote and renew your policy. Other notable policies that our Bell Car Insurance Review will dive into are their In-Car Entertainment cover, flexible payment options, and Multi-Car insurance. Bell truly believes that new drivers should be trusted and even forgiven in the case of an accident. Under their Bonus Accelerator Policy, you can receive a full year's No Claims Bonus after only 10 months. This is exceptionally useful if you had recently lost your No Claims Bonus.
Bell offers awesome coverage for new drivers. If this sounds like the right fit, then click here for a Bell Car Insurance Quote.
Excellent Cover as Standard from Bell Car Insurance
Uses innovative Plug & Drive black-box technology to help eligible new and young drivers get the best deals based on your style of driving, not just broad statistics.
Unlike other black-box insurance companies, Bell only requires the unit to be plugged into your car for the first three months of your policy.
Flexible ways to pay for your car insurance, which gives you added control over your policy.
In-car entertainment systems covered up to £1250 or 15% of the value of your car.
Click Here To Get A Quote From Bell Car Insurance
A Competitive Option for New Drivers
While most insurance companies base their policies for new and young drivers on broad statistics; an 18-year-old driver is three times more likely to be involved in a road traffic accident than their 48-year-old equivalent, so policies for 18-year-olds are naturally higher – Bell offers Plug & Drive black-box technology. This monitors the style of your driving, and if you prove that you are a safe driver during the first three months of your policy, Bell will discount your initial quote when you renew your policy
Why Choose Bell Car Insurance?
For the first three months of your policy, you fit an easy to install black-box into your car, which then monitors your driving style. During this three month period, you receive regular email updates on your driving ability, and the emails give you advice on how to improve your driving score. This score is what decides whether you get policy discounts at the end of the three month period. Bell have three requirements to decide whether you are eligible for the Plug & Drive policy – a car value of over £750, a premium of over £650, and mileage over 1900.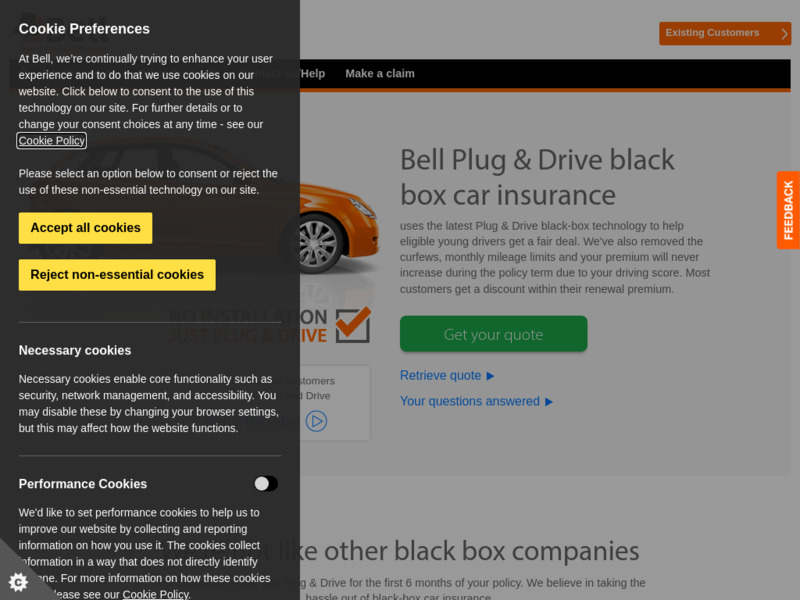 Benefits of Bell Car Insurance
With the black-box three month scheme, you are entitled to a discount on your policy if you are considered a safe driver, making Bell Car Insurance a company that gives very personal policies on a customer to customer basis. Other benefits of Bell Car Insurance include:
No curfews or mileage restrictions. While some telematics car insurance companies implement night curfews and mileage limits, Bell let you drive as and when you like. While frequent late night driving may affect your driving score, this allows you freedom that other policies do not offer.
The driver feedback supplied over email allows you to improve your driver score – Bell doesn't keep this information hidden from you in an attempt to prevent you from getting the discounts at the end of the first three months of your policy.
Flexible payment options allow you to choose the best payment plan for you – either make a one off payment annually and save up to 10%, or pay for your car insurance in monthly instalments.
The black-box is easy to install, and the website provides videos and guidance for any potential queries you may have regarding installation, which means you don't have to pay any extra installation fees to have someone do it for you.
The black-box is plugged in the 12V socket of your car, and as most modern phone chargers and satellite navigation systems do not use the 12V socket the black-box is unobtrusive. The unit also has an inbuilt USB socket that allows you to charge your USB compatible devices on the move.
Bell provides in-car entertainment cover up to £1250 on both their comprehensive policies and their Third Party, Fire, and Theft policies.
A courtesy car is offered as standard for comprehensive policyholders when your car is being fixed by one of Bell's approved garages or repairers.
Bell offers a Bonus Accelerator policy, useful for new drivers or drivers who have recently lost their No Claims Bonus, which gives you a full year's No Claims Bonus at the end of ten months.
Windscreen cover is offered as standard as part of Bell's comprehensive policy, and as an additional option for Third Party, Fire, and Theft policies.
Bell Car Insurance provides cover for you to drive other cars, providing you are aged 25 and over (subject to eligibility).
Cover to drive in Europe for up to 90 days a year is provided by Bell's comprehensive policy and their Third Party, Fire, and Theft Policies.
The comprehensive policy offers personal belongings cover up to £100, and up to £5000 in personal injury cover.
Multi-Car insurance policies are available under Bell's sister company, Admiral, allowing you to put all of the cars in your household under one policy. This means you can get discounts on all of the cars, not just the additional ones, which could save you even more money.
Click Here To Get A Quote From Bell Car Insurance
Bell Car Insurance Quote
Designed for new and younger drivers, Bell Car Insurance allows you to prove your merits as a driver, meaning that Bell can create bespoke policies that are both fair and excellent value for money. To see whether Bell Car Insurance has the right policy for you, get a quote today.
Click Here To Get A Quote From Bell Car Insurance