Compare Over 100 Car Insurance Websites through Confused.com
Save up to £222 by comparing and buying your car insurance through Confused.com
Getting a quote takes less than five minutes through their easy to use website/li>
The website has a comparison market of 131 car insurance companies that they personally trust, allowing you to rely on them finding you the best deals
The website is free to use, and only requires you to enter a few details about you and your car, in order to provide you with relevant car insurance quotes
Click Here To Get A Quote From Confused.com Car Insurance Comparison
Save Money and Time on your Car Insurance
Confused.com allows you to compare car insurance prices quickly and simply. Comparing via the website doesn't cost you anything, and the quotes they give you are the same quote you would receive if you went directly to the insurance company. In the time it would take you to look at one car insurance company, this website can automatically search through companies suited to your interests, saving you an invaluable amount of time
Why Choose Confused.com?
By offering impartial comparisons for car insurance, Confused.com allows you to handpick the deals relevant to you, from which you can choose the best priced company, saving you time and effort. By having a few personal details to hand and an idea of what you require from your car insurance, Confused.com will search over 100 companies in order to provide you with the best quote.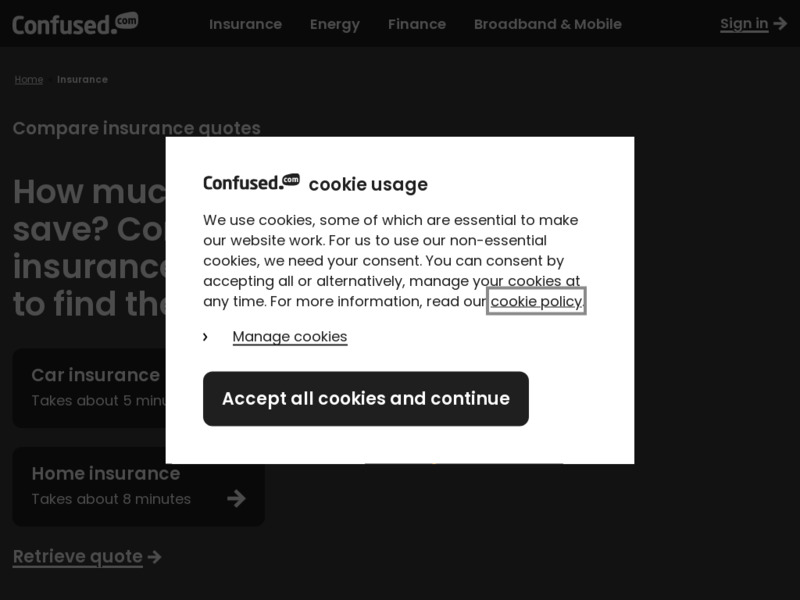 Benefits of Confused Car Insurance
Aside from the potential savings you could get by using Confused.com, here are a few of the benefits of using the website.
They promote telematics technology, which is particularly useful for young drivers. This 'black-box insurance' allows you to prove that you are a safe driver, which can save you money on your car insurance.
If you use Confused.com once, you can enter your email address and car registration at a later date for a QuickQuote, saving you even more time when searching for car insurance.
The website periodically reviews insurance prices across the UK, allowing you to check whether you are paying too much for your car insurance, based on the average price for your age and region.
With their free and impartial car insurance guides, Confused.com helps you to decide the exact type of car insurance you need, allowing you to save time in searching for car insurance, and save money by ensuring you're not paying for anything you don't need.
They have special and exclusive offers, that can only be found via the website, and these offers are updated regularly.
Because they earn their money through commission from the insurance companies, Confused.com wants to ensure that you the best deal possible. They provide lists of things you can do to make your car insurance even cheaper.
Alongside regular car insurance, the website also offers search options for other types of car insurance, including Multi-Car policies, Young Driver policies, Temporary Car insurance and over 50s policies.
Click Here To Get A Quote From Confused.com Car Insurance Comparison
Get Your Quotes Today Through Confused.Com
To ensure that you save as much money and time while buying your car insurance as you can, go to Confused.com today.