If you are a woman looking for an insurance company that is solely dedicated to women, then this complete Diamond Car Insurance review will help you make a final decision on whether they are for you.
Ladies – did you know that there was a car insurance company created just to serve your needs? Enter: Diamond Car Insurance, a subsidiary of the Admiral Group. Whether you are a new or experience female driver, Diamond offers competitive prices for all. Infamously, they also offer coverage of up to £300 for items such as handbags and child car seats in the event of an accident, which is rarely seen in other companies. On top of their exceptional policy, their customer service is also acclaimed. With a smooth claims process and a support line available 7 days a week, you can be rest assured knowing that they are an insurance company that is there for you. Click Here. You can save up to 10% if you get your Diamond Car Insurance Quote online now.
Why Diamond Car Insurance is a Top Choice for Women

Up to £5000 personal injury cover as standard through Diamond's comprehensive policy
Named Driver No Claims Bonus
Flexible payment options that allows you to either pay monthly or annually
Click Here To Get A Quote From Diamond Car Insurance
Insurance designed just for women
Diamond Car Insurance prides itself on specialising in cover just for women,and includes benefits in their policies that are not usually provided by other companies, such as handbag cover and child car seat cover up to £300. Launched in 1997 as part of the Admiral Group, Diamond has been providing competitive cover for women of all ages, with customer services open seven days a week.
Why choose Diamond Car Insurance?
With flexible payments and the ability to add a partner to your policy, Diamond Car Insurance is perfect for the modern day woman. Their flexible payment options allow you to either pay monthly, or save 10% if you pay annually in one lump sum. They offer competitive prices for newer drivers, and have a bonus accelerator policy which allows you to earn a year's no claim bonus in just ten months. If you have two or more cars, Diamond recommends the Admiral MultiCar insurance policy from their sister company for a Multi-Car Discount.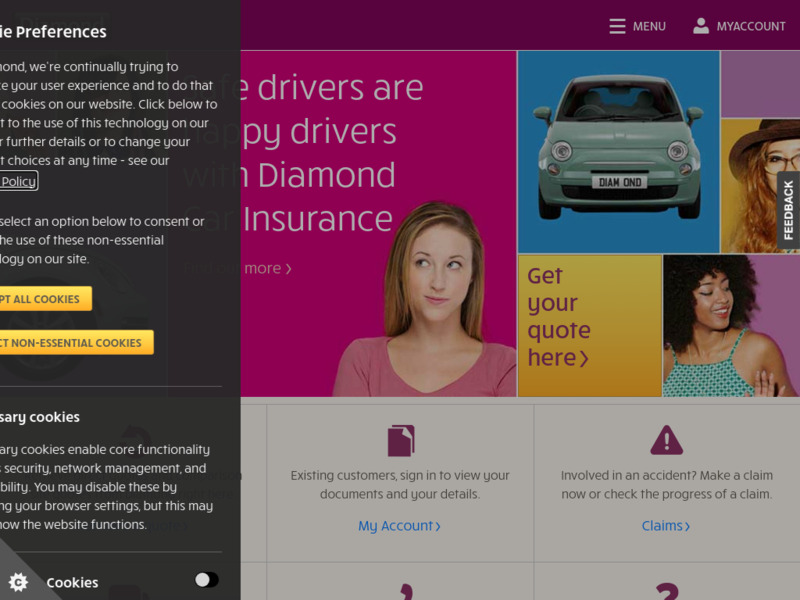 Benefits of Diamond Car Insurance
Whether you are a young woman getting her first insurance policy, or a woman looking to swap to a policy more suited to her, Diamond is worth checking out. As part of their Comprehensive policy, all of these benefits come as standard:
Diamond offer handbag and contents cover up to the value of £300, whether your handbag is lost or stolen.
A courtesy car is offered as standard as part of Diamond's comprehensive policy. Whether you have been in an accident or are making a claim, Diamond Car Insurance will keep you on the road while your car is under repair with a Diamond approved garage.
£5,000 Personal Injury cover, which can be added to by additional Personal Injury Cover policies.
A 24 hr emergency helpline is provided; giving you added peace of mind when out on the road.
Windscreen repairs are included in their comprehensive policy with a £25 excess.
Your Diamond Car Insurance policy covers you while driving in Europe for up to 90 days a year and this is included across all of Diamond's policies.
Audio and visual in-car entertainment systems are covered up to either the value of £1,250, or 15% of the car's value, whichever is lower.
Named drivers can earn a Diamond No Claims discount (for use with Diamond policies).
Diamond offers the chance for you to add your partner to your policy.
£100 personal belongings cover
Flexible payment options allow you to choose the easiest way to pay; either spread the cost with monthly instalments or save up to an extra 10% if you pay in one lump sum by credit or debit card
Diamond newsletters offer members special offers and competitions.
Diamond Car Insurance covers you when driving other cars (subject to eligibility)
Choice of excess, allowing you the chance to reduce your premium and save on car insurance costs.
Diamond has a hassle-free claims service, and a fantastic customer service and support network.
To further enhance your policy, Diamond offers upgrades to ensure that you are getting what you need at the right price for you. These upgrades include:
Additional breakdown cover, which is offered on three levels – Local Cover, National Plus Cover, and European Cover, allowing you to choose the breakdown cover that suits you best.
In the event that your car is written off or stolen, Diamond offers a Hire Car upgrade that provides you with a replacement vehicle for three weeks, if you do not get a replacement vehicle from a third party insurer.
Diamond Key Care cover provides the protection of up to £1500 to cover the costs of replacement keys and locks in the event that your keys are lost or stolen. This includes any key, not just those for your car or home. The emergency helpline is open 24/7, and you will have access to a network of locksmiths that spans the nation.
Motor Legal Protection provides you with up to £100,000 of cover for legal costs if you are involved in an accident that's not your fault, allowing you to make personal injury or uninsured loss claims.
While Diamond's comprehensive policy already provides £5000 personal injury cover, adding additional personal Injury cover provides you with an additional £50,000 of cover for Personal Injury Cover, or £100,000 for Personal Injury Plus Cover. This covers both you and any other named drivers on your policy, the cover protects you while you're travelling in other privately insured cars, and you're always covered, whether the accident is your fault or not.
Click Here To Get A Quote From Diamond Car Insurance
Diamond Car Insurance Quote
Diamond Car Insurance, as one of the few insurance companies designed specifically for women, will undoubtedly appeal to women of all ages. Although the EU legislation change to the Insurance and Pensions Directive means that Diamond can no longer offer cheaper insurance based on gender, they still have a variety of benefits for women that you won't find through other insurance companies. With the chance to save up to 10% more when you get a quote online, any women looking for a policy built with them in mind, should get a personalised quote from Diamond online now.
Click Here To Get A Quote From Diamond Car Insurance