"No Nonsense, Great Value, Straight Forward" – that's Elephant Car Insurance's motto. If these values are important to you and who you select as your insurance company, then read on for more information in this Elephant Car Insurance Review.
And they definitely deliver on that, too. As the oldest online car insurance company, they are experienced at bringing you the best customer service experience – both online and off. Their easy to use website is incredibly transparent and straight forward – just like they say. The even scored an 8.6 out of 10 on ReevooMark for overall satisfaction with the service, which is phenomenal. They are also known for value overall – with customers saving over £235 on average when they switch to Elephant.
Whether you are a young or experience driver, Elephant will create a policy that will fit your needs.
Click here for an Elephant Car Insurance Quote and you could also be save over £235 on your policy with Elephant.
Reasons to Choose Elephant Car Insurance
Scored 8.6 out of 10 or higher for ease of purchase, value for money, and overall satisfaction on ReevooMark.
10% of customers saved over £235 between November 2014 and April 2015
In-car entertainment systems covered up to £1250 or 15% of the value of your car as standard
Use of courtesy car as standard while your car is at an Elephant approved garage
Click Here To Get A Quote From Elephant Car Insurance
No Nonsense, Great Value, Straight Forward Car Insurance
As the longest running online car insurance seller, Elephant Car Insurance prides itself on providing you with quality customer service, and, in their own words, they will sell you "no nonsense, great value, straight forward car insurance". There are no gimmicks, and with an easy to use website you will find the car insurance buying process simple and straight forward, just like they promise.
Why choose Elephant Car Insurance?
With a wide range of policy upgrades, Elephant Car Insurance policies can be tailored for whatever suits you best. Even as standard, Elephant offer a number of benefits that ensure you are getting comprehensive cover for a great price, including Sports Cover for theft or damage of equipment up to £300, and European Cover for up to 90 days. They offer insurance buying guides on their website, which offer free advice to drivers of all ages.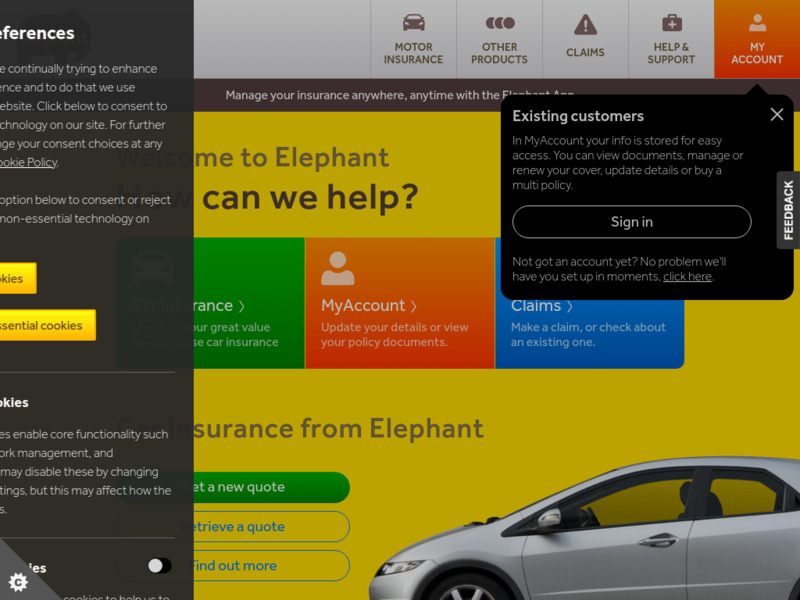 Benefits of Elephant Car Insurance
As the oldest UK online car insurance company, Elephant have tailored their benefits – both standard and additional – to really suit you. Their standard benefits include:
Cheaper car insurance overall, with customers saving over £235
A courtesy car as standard, while your car is being repaired at an Elephant approved garage.
Their Sports Cover, a relatively new standard benefit, offers up to £300 cover for sports equipment damaged by fire or accident, and the cover extends to theft.
In-car entertainment equipment cover, which provides cover up to either £1250 or 15% of the value of your car (whichever is lower).
If your windscreen gets chipped, Elephant will repair or replace it for you as part of your standard policy (excess applies).
You are covered to drive in Europe for up to 90 days a year, and your car is covered while it is being transported by air, sea, or rail while travelling between any country that is a member of the European Union, giving you added peace of mind on your travels.
Up to £5000 of personal injury cover for you and your spouse.
Any named driver on your policy can earn the Elephant No Claims Bonus.
Elephant also offer additional upgrades, which can all be added to your car Insurance policy, or you can pick and choose whatever suits you best. These upgrades include:
Motor Legal Protection, which provides up to £100,000 of cover for any legal costs involved in a motor accident that is not your fault. Motor Legal Protection provides cover for claiming back uninsured losses, claims if you feel your car's identity has been stolen, any contract disputes regarding your car, and a free Legal Advice Helpline. This policy covers the policyholder and any named drivers on the policy.
Personal Injury Cover and Personal Injury Plus Cover, offer extra personal injury cover on top of the £5000 personal injury cover offered as standard in comprehensive policies. While this doesn't extend to other named drivers on your policy, the Personal Injury Cover offers up to £50,000 of cover to you and your spouse, while the Personal Injury Plus Cover offers up to £100,000, and you are covered whether the accident is your fault or not. Elephant Personal Injury Cover can also be used alongside any other life insurance you may have.
Although you get a courtesy car after an accident as part of Elephant's comprehensive car insurance, while yours is at an approved garage, you do not get one if your car is stolen or written off. Hire Car cover allows you to claim either a similar sized vehicle to yours, or £200 to use for travel expenses. You can keep the hire car for up to 21 days, allowing you time to arrange a permanent replacement for your stolen or written off car.
Elephant Keycare cover provides up to £1500 to cover the costs of replacement keys and locks if yours are lost or stolen.
The Extra Car Package combines Personal Injury, Hire Car and Keycare into one package, providing you with great cover at even better value.
Elephant offer three levels of breakdown cover, depending on your requirements – Local Cover, National Plus Cover, and European Plus cover – ensuring you only pay for what you need.
Click Here To Get A Quote From Elephant Car Insurance
Elephant Car Insurance Quote
With great customer ratings and long standing service, Elephant Car Insurance is an appealing option to car insurance buyers of all ages. To get comprehensive cover for the best price, get a quote directly from Elephant now.
Click Here To Get A Quote From Elephant Car Insurance