With a 5 Star Defaqto rating and exemplary customer reviews on Trustpilot featured on their website, Hastings can proudly claim the pedestal of amazing customer service. If they sound like an insurance company you'd be interested in sign up for, read on for a more detailed Review of the Hastings Direct Car Insurance.
With a 24/7 helpline, you can feel safe knowing that their customer support team will always be there to assist you. Their treatment of their customers is widely regarded. We would also like to point out the competitive rates they offer. Hastings will compare prices from across the board of UK insurance providers in an effort to get you the best value for the best price. They offer discounts for students, for an added second car, and even for services at Halfords Autocentres.
As one of the highest rated insurance providers with the best value offers, it definitely wouldn't hurt to get a Hastings Direct Car Insurance Quote today.
Choose Hastings Direct Car Insurance for Five Star Quality
With a Defaqto 5 Star rating and a 24/7 UK claims helpline, you can be sure your claim will be handled with speed and care
You will receive 90 days cover to drive in all EU countries.
The flexible payment options allow you to choose between annual or monthly payments – whatever suits you best.
Click Here To Get A Quote From Hastings Direct Car Insurance
A High Level of Customer Satisfaction
While many car insurance companies proudly display their 5 Star Defaqto ratings, Hastings Direct goes one step further and openly shows customer opinions from Trustpilot. A quick read through some of the comments on their website will reveal a high level of customer satisfaction, from drivers who have managed to save money on their insurance by going to Hastings Direct, to those who have successfully claimed after an accident.
Why Choose Hastings Direct?
Hastings Direct is the only insurer to offer half price MOT vouchers for Halfords Autocentre with all of their quotes. This is already an excellent deal, but they have even more options to save you money – for example, you can get 10% off each extra car insured on their Multi-Car policy. With many customers choosing to pay in monthly instalments, the flexibility offered is a big selling point to a lot of drivers.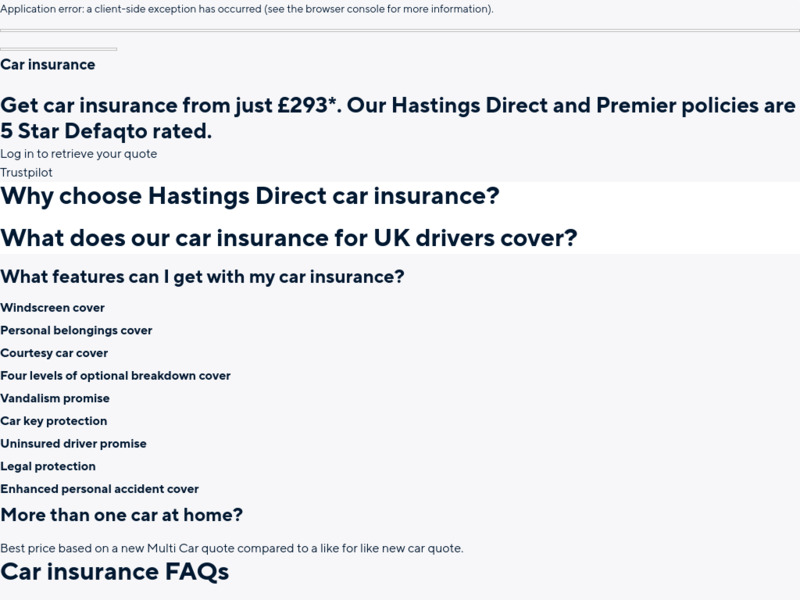 Benefits Of Hastings Direct Car Insurance
Alongside the half price MOT voucher for Halfords Autocentre and the flexible monthly payment option, Hastings Direct also have many other benefits for you to consider.
By comparing prices from a range of top UK insurers, Hastings Direct can ensure that they give you insurance at the best possible value for money.
You can choose between a comprehensive policy, a third party fire & theft policy, or a third party only policy, so you only pay for the cover you need.
The 24/7 UK claims helpline means you can make a claim at any time, even if you need to claim in the middle of the night.
If you are a younger, newer driver, or simply want the chance to save money on your car insurance, Hastings Direct offer telematic technology with their SmartMiles policy, and there is a 5% discount for students.
A courtesy car is provided as standard, while your car is being repaired by a Hastings Direct approved repairer.
They will insure two drivers within a single household under their Multi-Car policy, even if you are not related, and you could save up to 10% on your second car.
If your vehicle is vandalised, the Vandalism Promise means you won't lose your No Claims Discount. Likewise, the Uninsured Driver Benefit means you won't lose your No Claims Discount if you are hit by an uninsured driver, and there is no excess to pay.
You will receive up to £300 personal belongings cover as standard.
Along with these standard benefits, Hastings Direct also offers optional extras that you can add to your policy, depending on what you need your car insurance to cover.
In addition to the courtesy car provided as standard, you can also choose to add Substitute Vehicle Cover to your policy. This will provide you with additional cover if you cause an accident that results in a total loss, and it will cover you after an unrecovered theft. The hire car provided by the cover is yours for up to 21 days, allowing you enough time to make alternative transportation arrangements.
The key cover policy provides you with up to £1500 worth of cover if your vehicle, home or office keys are lost, stolen, or locked inside your property, and lock cover in the event that your lock is broken. You can make a claim on this policy without it affecting your no claims discount on your other policies.
You can secure additional legal protection with up to £100,000 legal expenses cover. Not only will this assist you in making claims after an accident that is not your fault, but it also covers other compensation claims and legal costs, to defend you against following a motoring offence.
The Enhanced Personal Accident Cover could give you up to £140,000 if you or your passengers are injured or killed in an accident. While the standard motor policy covers you and your spouse or partner for up to £5000, the Enhanced Personal Accident Cover will give you further peace of mind if you want to cover more people, or simply want a bigger payout in the event of injury or death.
There are four levels of breakdown cover offered by Hastings Direct – Roadside Recovery, UK Recovery, Home Service, and European Cover. Each offers increasing benefits, so it's worth checking them all out to ensure that you get exactly what you need.
Click Here To Get A Quote From Hastings Direct Car Insurance
Hastings Direct Car Insurance Quote
Hastings Direct is one of the most highly rated car insurers, and with their amazing offer on MOT vouchers and the various discounts you can receive on other policies, it is easy to see why they're so highly regarded. When you combine these benefits with their proven levels of customer satisfaction, you've got an excellent reason to get a quote online directly from them today.
Click Here To Get A Quote From Hastings Direct Car Insurance