If you are 17 years old, a learner driver, or a new driver – then Marmalade might be the insurance for you. In our Marmalade Car Insurance Review, we will dive into just what sets them apart from other insurance policies.
First off, most insurance companies do not insure people under the age of 18. The fact that Marmalade is willing to insure 17 year-old new drivers speaks volumes to how much they care about their demographic. Learning how to drive is hard, so Marmalade wants to be there for you to help you out. Pay from only £2.05 a day while you are still learning to drive. You can also insure yourself under your parent's car while you are still learning to drive. Once you pass your driving test, you can be automatically upgraded into their New Driver Insurance if you like.
To see if you can pay as low as £2.05 a day on their Learner Insurance, click here for a Marmalade Car Insurance Quote.
New on the Road? Try Marmalade Car Insurance
Learner Driver Insurance starts at just £2.05 per day.
Marmalade provides black box insurance for new drivers, which could save you £100's on your policy.
You can receive a brand new car and insurance deal if you are a driver aged 17-24.
Insure yourself on your parents' car with the short term student driver insurance cover.
Click Here To Get A Quote From Marmalade Car Insurance
The Insurance Provider for Young Drivers, Learners and New Drivers
Marmalade Car Insurance focuses on young drivers, learners and new drivers, meaning they can provide you with quotes that are useful to you as well as being inexpensive. There are no curfews on their policies unlike some insurance providers, so you have the freedom to drive when and where you like.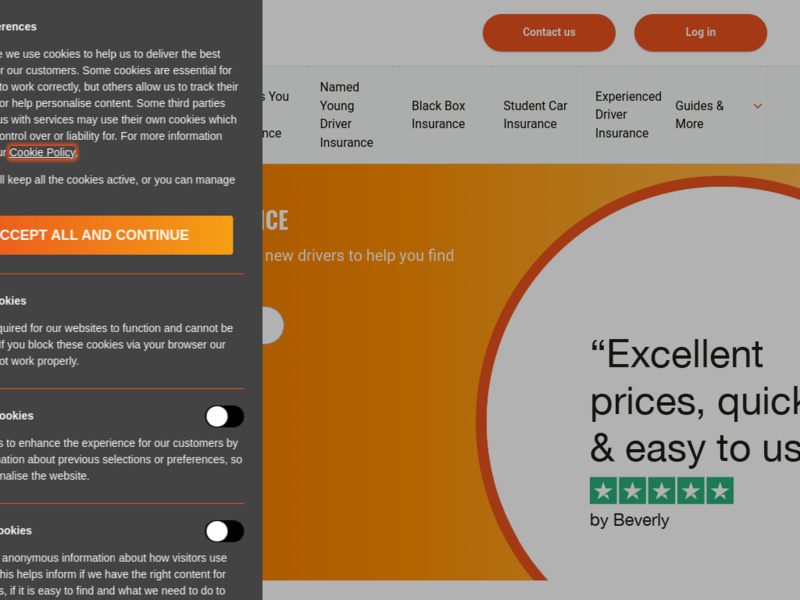 Why Choose Marmalade Car Insurance?
If you are new on the road, your options for car insurance are somewhat limited, especially if you are still 17. Marmalade creates insurance that will cover you under a variety of circumstances if you are aged 17-24; you can find a good deal and be on the road with just a few clicks.
Benefits Of Marmalade Car Insurance
By focusing on younger drivers, Marmalade provides a range of benefits tailored to suit you, that you simply won't find with other insurance providers.
The Learner Driver Insurance will give you cover to learn to drive in a friend or family member's car, and you won't risk affecting their No Claims Bonus, should you have an accident. You can pay as little as £2.05 per day, and you have the flexibility to choose the length of your policy – 30, 60, or 90 days – so that you only pay for what you need. If you need an extension on the length of your policy, you can renew it as often as you need to.
Their telematics policy allows you to monitor your driving, and this black box technology could save you money on your policy, if you continue to prove yourself to be a safe driver. E-Learning modules come with this policy to help you improve your driving skills.
Marmalade offers the UK's only new car andinsurance package from the age of 17 – in certain postcodes this insurance is free with your new car, so it's worth getting a quote today to see if you are living in one of these postcodes.
You can insure yourself on your parents' car, without risking their No Claims Discount, with Marmalade's short term Student Driver Insurance, provided that you have a full driving licence. You can choose the length of your policy – cover is available for 7, 14, 21 or 28 days, which are ideal lengths for when you're visiting home for the holidays.
Their website is easy to use, and provides excellent customer service to make buying and insuring your car a simple process.
If you decide you have bought too much Learner Driver cover, Marmalade will refund you for any full 30 days of cover you don't need, for a small fee of £10.
Unlike many black box insurance providers, Marmalade will offer you the maximum discount on your premium, right away. If you then drive irresponsibly (9 out of 10 of the people that take out this policy don't drive irresponsibly, by Marmalade's standards), there are additional premium charges. This means, providing that you're a safe driver, you can save money right away.
The new cars for young drivers are just that – brand new, because Marmalade knows that these cars are safer.
With the Young Driver Insurance, you are covered to drive outside of the UK, but with a lower level of cover than what you receive here, at home. .
Because your policy documents are emailed to you, you don't have to worry about losing the physical copy, or not receiving it in the post. If you accidentally delete the email, you'll be able to access your documents on the Marmalade website with the login details they provide you with, in order to retrieve your documents.
The telematics device is unobtrusive, and the price of installation is included in your policy. An engineer will even come out to install the box in your car, at your home address.
Once you pass your driving test, the Learner Driver Insurance cover will stop immediately. If you then choose to take out their New Driver Insurance, they will offer you up to £100 discount if you didn't make a claim on your learner policy.
You don't just have to drive a car with the car owner – you can be supervised by anyone over the age of 25 who has had a UK driver's licence for at least 3 years.
Click Here To Get A Quote From Marmalade Car Insurance
Marmalade Car Insurance Quote
If you are a young driver, a new driver or still a learner, you will be hard-pressed to find better deals than with Marmalade Car Insurance. To make sure their policies are the right ones for you, all you need to get started is your home postcode – the online process is quick and easy, and it will only take you a few minutes to get a quote today.
Click Here To Get A Quote From Marmalade Car Insurance