In this RAC Car Insurance Review, you can learn more about their policies and whether or not they are what you are looking for in your car insurance company.
Whether you own multiple cars or a classic car, or if you are looking for a short-term insurance policy, odds are, RAC just might have the right policy for you. They have the following car insurance policies and more: Multicar Car Insurance, RAC Test Drive Car Insurance, RAC Learner Driver Car Insurance, Temporary Car Insurance, Classic Car Insurance (of which you can choose from everything between American Car Insurance to Classic Military Vehicle Car Insurance), and much more. With such a robust selection of insurance policies, it is very possible that you can find your specific niche here with RAC Car Insurance.
To see if you qualify to pay less than £165 a year like some of their customers, click here for an RAC Car Insurance Quote.
Let RAC Car Insurance Reward Your Safe Driving
Courtesy Car as standard.
Free Motor legal Protection cover.
Up to 70% discount with 9+ years No Claims Discount.
Short Term Car Insurance for up to 28 days.
Click Here To Get A Quote From RAC Car Insurance
A Trusted Name Short and Long Term Car Insurance
RAC Car Insurance is committed to finding out the best deals for all their customers. For their Car Insurance Plus cover, 10% of their customers paid less than £165 a year for their car insurance. Their wide range of policy options makes the company an attractive choice, particularly if you have a clear idea of what you're looking for from your car insurance policy.
Why Choose RAC Car Insurance?
RAC offers a very diverse range of policies. Whether you own a Classic car, multiple vehicles, or you want to insure your car by the day, you will surely find a flexible deal that works for you. If you have held a No Claims Bonus for nine years or more, you could save up to 70% on their standard policy.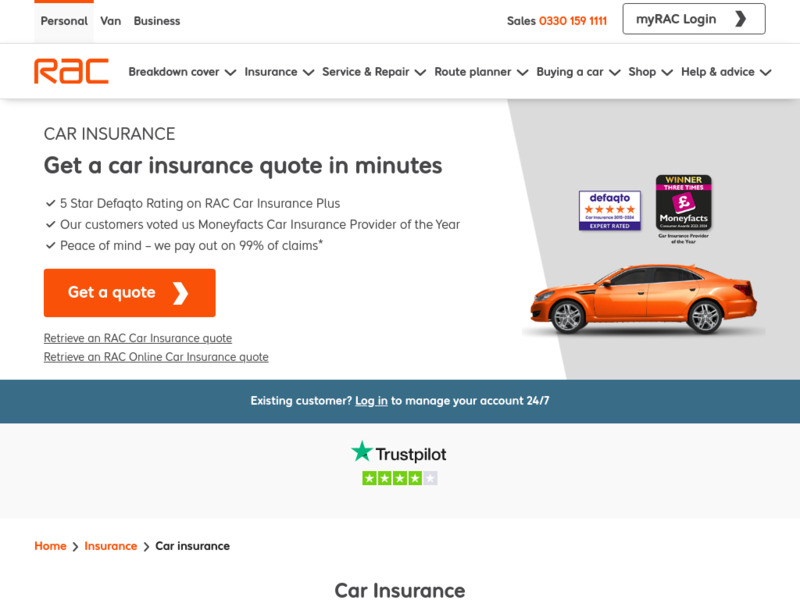 The Benefits of RAC Car Insurance
With so many different policies on offer, RAC are able to offer a wide range of benefits for you to pick and choose from. The following are just some of the benefits offered with RAC Car Insurance Plus:
RAC Car Insurance Plus is a great value comprehensive car insurance policy, with extra benefits, and you can upgrade for a small percent of your premium. The extras with Car Insurance Plus include transport home after an accident, personal accident cover for you and your partner (up to £5000 per claim), up to £100 per child car seat, even if there is no apparent damage, and a refund of your excess if you're hit by an uninsured driver.
With Car Insurance Plus, you keep your no claims bonus if your car is vandalised or hit by an uninsured driver.
The RAC will collect your car if you become seriously ill on a car journey, so you can focus on your health.
You will receive personal belongings cover up to £250, and your audio equipment is covered up to £1000 for non-manufacturer fitted equipment, and unlimited cover for manufacturer fitted equipment.
If you choose not to take out Car Insurance Plus there are still a number of policies to choose from, and they all come with their own benefits.
You can save 10% Multicar discount for up to three additional cars, if you choose to take out an RAC Multicar policy. The additional cars don't have to belong to family members – anyone who lives in the same house as you is eligible. Each policyholder has a separate no claims bonus too, so yours won't be affected if another policyholder needs to make a claim.
If you want to test drive a car before committing to buying it, consider taking out RAC Test Drive Insurance. You get comprehensive cover from 1-28 days and buying online is quick and easy to arrange, so you'll have complete peace of mind during your test drive.
RAC Learner Driver Insurance allows you to pay for the cover you need – whether you need 1 day of cover or 5 months, this insurance is a great option for flexible, short term cover. You are covered from 6am to 10pm, which keeps the cost of your insurance down.
With Temporary Car Insurance, you can insure your car on a pay-by-day scheme. Your comprehensive cover is available immediately, and you pay for the exact number of days you need.
Classic Car Insurance prices start from just £55 a year, and there are even sub-category insurance policies to choose from – you can pick between Cherished Car Insurance, American Car Insurance, Classic Commercial Vehicle Insurance, Classic Tractor Insurance, and Classic Military Vehicle Insurance.
With up to 60 days cover while driving in the European Union, and at the same level of cover you receive in the UK, you can really have peace of mind on your trip abroad.
Click Here To Get A Quote From RAC Car Insurance
There are many benefits to taking out an RAC Car Insurance policy. If you are after short-term cover, their prices are extremely competitive and without a doubt some of the best on the market, for the level of cover they offer. If you own a classic car, you may want to check out what the RAC can offer you. However, regardless of the length of the policy you need or the kind of vehicle you drive, you should get a quote directly from their website today to see how much money you could save.
Click Here To Get A Quote From RAC Car Insurance