"Get a life, get Swiftcovered" is Swiftcover's slogan. If that speaks to you, then keep reading to find out more in our Swiftcover Car Insurance Review.
For the busy bees, Swiftcover prides itself on providing quick and easy service. From their comprehensive online services to the speediness at which you can receive your policy, Swiftcover has got your back. Receive your policy online, manage your policy online, and even print your policy online – no need for any extra frills and steps. Get into an accident? No worries – install a Dash Cam, which you can be used to prove that you're not at fault, and get it figured out right away. Got hit by an uninsured driver? Just let Swiftcover know and they'll take care of everything.
Too busy to do anymore insurance research? Click here to get a Swiftcover Car Insurance Quote in just minutes. It'll be time well spent.
In a Hurry? Find Cover Fast with Swiftcover Car Insurance
Swiftcover prides themselves on their swift, easy to use online service.
You can save money on your car insurance policy with the Dashcam discount.
A lifetime guarantee on repairs is included as standard with the comprehensive policy.
Swiftcover have a five star rating from Defaqto, and they have received multiple Best Buy awards from Which?
Click Here To Get A Quote From Swiftcover Car Insurance Review
The Insurer Who Cuts Costs, Not Corners
Priding themselves on finding your policy quickly and easily, Swiftcover are a perfect choice for busy people. Though their UK based help teams are on hand, Swiftcover are great for the internet savvy customer, with a full web service meaning you can not only buy your policy, but change and renew it online, free of charge. You can even track the progress of claims.
Why choose Swiftcover Car Insurance?
Although Swiftcover process their policies with efficiency , this doesn't stop them from ensuring that the policies are detailed, and they never compromise on quality. Their comprehensive insurance offers all of the essentials, including windscreen repair and protection for your car stereo.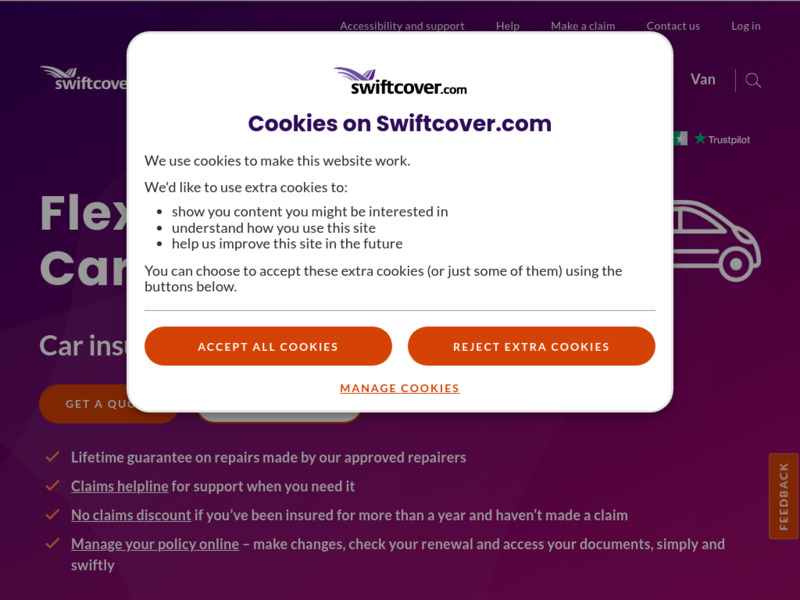 Benefits of Swiftcover Car Insurance
Swiftcover's greatest asset is how quick they are at providing you with a policy – with the convenience of printing your own policy certificate at home, you don't have to wait for it to come in the post. However, there are many more benefits to getting your policy through Swiftcover.
You don't have to pay any hidden admin fees if you update your details yourself online, meaning you could save even more money than you would with other insurance providers.
The comprehensive car insurance policy, gives you a courtesy car for up to fourteen days while yours is being repaired by a Swiftcover approved repairer. They even go one step further and guarantee the repairs for as long as you own your car.
To save even more with Swiftcover, they offer the Dashcam Discount – if you install a dashcam in your car, you'll get 10% off your car insurance, because Swiftcover believes that drivers with dashcams are, on the whole, more careful drivers. Another benefit of the dashcam is that it can prove that you definitely weren't at fault for an accident.
The uninsured driver promise means that, if an uninsured driver damages your car, you only need to make Swiftcover aware of the make, model and number plate of the uninsured car and they'll sort everything out for you. It won't cost you anything in excess payments, and you won't lose your No Claims Discount.
Swiftcover offers you a personal account for their website, so all of your policy documents and paperwork are kept safe in one place online.
Alongside the benefits that come as standard, Swiftcover also offers optional extras that you can add to your policy.
Protect your No Claims Discount if you have at least one year's no claims discount. This cover allows you to make one claim in a year or two claims in three years, and your No Claims Discount will remain unaffected.
The Legal Cover will pay up to £100,000 for an appointed legal team to recover your uninsured losses from the person they can prove was responsible for your accident. The legal team can also help you get your medical expenses refunded, and help you claim compensation for your injuries.
While Swiftcover offers a courtesy car as standard, if you needed a larger hire car or wanted the added freedom of a longer hire period, you should consider adding the Courtesy Car Upgrade to your policy. You would receive a hire car the same size as yours, and you would be able to use the hire car for up to 21 days.
Swiftcover's Personal Injury & Rehabilitation cover will provide you with expert medical care to help you get back on your feet after a car accident. Among the specialist services available are physiotherapy and chiropractic treatments.
The optional breakdown recovery cover comes in four parts, so you only have to pay for what you need; Swift Roadside, Swift Rescue, Swift Rescue and Homestart, and Swift European. Included in the breakdown cover is Key Assistance – which covers you if you lose or damage your keys, A friends and relatives message service, which will allow Swiftcover to let your friends and relatives know how you are after an accident.
Their website provides helpful guides and articles for potential buyers who are unsure of what to look for in car insurance. They have a very visible link to their Insurance Jargon Buster, which helps to make the insurance buying process as accessible as possible.
Click Here To Get A Quote From Swiftcover Car Insurance Review
Swiftcover Car Insurance Quote
If you haven't got much time to spend actively seeking for car insurance quotes, or you would simply like to organise your paperwork online, then Swiftcover may be the insurance provider for you. With their award winning value, they could save you time as well as money – simply click the link below to get a quote and find out how much you could save.
Click Here To Get A Quote From Swiftcover Car Insurance Review